Sale!
ErgoPressure Contour Memory Pillow 6 in 1
$39.20 – $69.52 & Free Shipping
Free shipping on all orders
Satisfaction Guaranteed
No Hassle Refunds
Secure Payments
Description
New 2019 ErgoPressure Contour Memory Pillow is designed to prevent your arms from going numb while you sleep.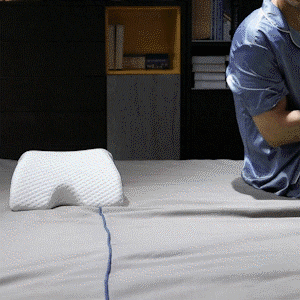 You hit the sack. You lay on your side and you just feel fine. Then suddenly, when you're already fast asleep, you'll feel uncomfortable with numb arms! Sounds familiar? 
But REJOICE SIDE SLEEPERS! You can say goodbye to arm numbness!
This pillow prevents pricking pins and needles as you sleep!
Has a curved rest where arms can be placed 
Its unique shape allows you to insert your arms at the bottom so the memory foam holds your head's weight instead of your arms!
Use as a head pillow & prevent neck/shoulder pain
Unlike your regular pillow that is too rigid or too soft, this memory foam offers the right amount of firmness for support, and cushion for a comfortable sleep. It follows the contour of your head and neck. You'll avoid having a strained neck as you wake up in the morning. 
Regulates head & neck temperature for a good sleep
Has special thermal control properties that keep you warm through cold nights and cools you down during summer. It will definitely improve the quality of your rest. 
Can also be used on tables for quick naps
It's perfectly elevated so you can place it on your table and use it for your quick naps.
Works best for sleeping couples too!
Lay your head on your beloved's arm and he will never have to feel numb! You can stay closer with your partner and cuddle without any obstacle. 
Wake up well-rested in the morning with the ErgoPressure Contour Memory Pillow! Get yours NOW!
---
PRODUCT SPECIFICATIONS
Material: Polyester, Polyurethane, ABS Plastic
Dimensions: 35cm x 30cm x 13cm
Weight: 530 grams 
Package Inclusion/s: Options
Single Pillow – Get 1 pc of the ErgoPressure Contour Memory Pillow
Couple Pillows – Get 2 pcs of the ErgoPressure Contour Memory Pillow
---